Public Notice (Click for PDF Download)
WAITLIST DATES
Waitlist Opening: 8:00 AM (PST) Monday, April 10, 2023,
Waitlist Closing: 8:00 AM (PST) Monday, May 1, 2023.
*Rose Terrace and MRP Waiting lists will remain open until 250 applications are received for each bedroom size. After the Waitlist Closing Date, only Rose Terrace and MRP waiting lists that have less than 250 applications will remain open until 250 applications are received.
MRP Waiting List have 2–4-bedroom sizes. Rose Terrace Waiting List have 1–5-bedroom sizes.
PROPERTY LOCATION
Project Based Voucher (PBV) assistance will be provided at the following locations only:
• Rose Terrace Apartments (530 E. Harrison Dr., Avondale, AZ 85323)
• Maricopa Revitalization Partnership (Various locations Mesa, AZ 85210)
ELIGIBILITY REQUIREMENTS
Applicants that are selected from the Waitlist must meet the current Income limits, see below: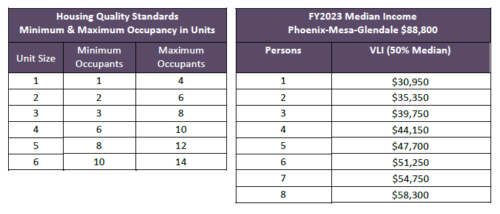 APPLICATION METHOD
All applicants must register and apply on HAMC's Applicant portal at https://portal.maricopahousing.org Registration is required, and applicants must login to apply. A useful tutorial video for registration, login and applying may be viewed at: https://maricopahousing.org/videos. Another helpful resource, Waitlist Frequently Asked Questions can be accessed at https://maricopahousing.org/faq
Paper applications will not be accepted; however, if you require assistance with the application process, you may contact the waitlist helpline Monday-Friday 8:00 AM – 3:00 PM at 602-744-4555. If you require phone-based assistance outside of the helpline hours, you must contact us at least 48 hours in advance to make a call-in appointment. The waitlist helpline will not be active before or after the dates posted above.
HAMC's Applicant portal allows those added to a waitlist to (1) check waiting list status, (2) reply to future 'Save My Spot' inquires, and (3) when selected from the waitlist complete the formal application process ('Certification for Intake'). For more information about HAMC's housing programs visit HAMC's website at https://maricopahousing.org/
REASONABLE ACCOMMODATION
A reasonable accommodation is a change, exception, or adjustment to a rule, policy, practice, or service that may be necessary for a person with disabilities to have an equal opportunity to use and enjoy a dwelling, including public and common use spaces, or to fulfill their program obligations.
To request a reasonable accommodation, you must complete and return a reasonable accommodation request to our office which can be found at: https://maricopahousing.org/wp-content/uploads/2015/07/Reasonable-Accommodation-Request-Form-Fillable1.pdf
PREFERENCES AND METHODOLOGY FOR THE SELECTION
Applicants will be selected from the waitlist based upon available unit size and the applicants' reported household size.