Archives for June 2016
Chandler is accepting PH applications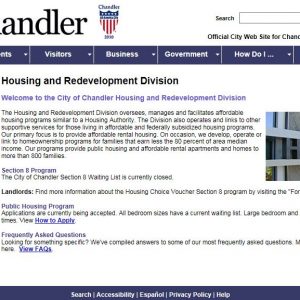 Glendale SECTION 8 HOUSING CHOICE VOUCHERS opening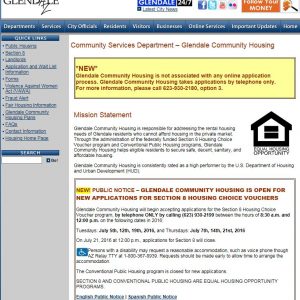 2016 JUNE Public Notice Sec8
2016 JUNE Public Notice Sec8_Spanish

Mesa Housing is accepting applications for Project Based properties
AGENDA
Tuesday, June 21, 2016 at 9:30 a.m.
Housing Authority Conference Room
Pursuant to A.R.S. Section 38-431.02, notice is hereby given to the general public that the Advisory Committee for the Housing Authority of Maricopa County will hold a meeting at 9:30 a.m. on Tuesday, June 21, 2016. This meeting will be held at 8910 N 78th Avenue, Peoria, AZ 85345. Agendas are available 24 hours prior to each meeting at the Housing Authority of Maricopa County, 8910 N 78th Avenue, Peoria, AZ 85345, Monday through Friday between the hours of 8:00 a.m. and 5:00 p.m., or online at www.maricopahousing.org. One or more Committee members may attend telephonically and will be announced at the meeting. Accommodations for individuals with disabilities, including alternative format materials, sign language interpretation, and assistive listening devices are available upon 72 hours advance notice and interpreting services for those individuals with Limited English Proficiency will be available upon 18 hours advance notice to Irma Hollamby, 8910 N 78th Avenue, Peoria, AZ 85345, (602) 744-4541, Fax (602) 744-4545, TDD (602) 744-4540, email: i.hollamby@maricopahousing.org. To the extent possible, additional reasonable accommodations will be made available within the time constraints of the request.
1. Roll Call and Pledge of Allegiance
2. Approval of March 15, 2016; May 17, 2016; and May 26, 2016 Advisory Committee Minutes
3. Executive Director's Update
A. Public Housing Admissions and Continued Occupancy Changes – Donna Ybarra
B. 2017 Operating Budget Presentation – Mario Aniles
Suggested Action: For information and discussion
4. Board of Commissioners Agenda Items
A. Resolution 16-011 Plan Year 2017 Employee Benefits Renewal
B. Resolution 16-012 Fiscal Year 2017 Operating Budget
C. Resolution 16-013 Employee Merit System Resolution and Merit Rules
Suggested Action: For information, discussion and recommendation to the Board of Commissioners
 
5. Program Updates
Presentations: Public Housing – Donna Ybarra
Housing Choice Voucher Program – Jenese Bojorquez
Resident Self Sufficiency – Vivian Diaz
Finance – Mario Aniles
Suggested Action: For information and discussion
6. Housing Authority Advisory Committee Forum
This section of the agenda allows Advisory Committee members to share information regarding a variety of housing-related issues in a public forum.
7. Call to the Public
This is the time for the public to comment. Members of the Committee may not discuss items that are not specifically identified on the agenda. Therefore, pursuant to A.R.S. Section 38-341.01 (G), action taken as a result of public comment will be limited to directing staff to study matter, responding to any criticism or scheduling the matter for further consideration and discussion at a later date.
8. Call to Adjourn
Next meeting July 19, 2016
As a federally funded agency the Housing Authority of Maricopa County's ability to make timely Housing Choice Voucher (HAP) payments to landlords and Utility Assistance (UAP) payments to voucher recipients depends upon the receipt and timing of federal government funding. Payments will be issued before the 10th of the month.
We ask that you please be patient during this time and wait until after the 10th to contact the office regarding late and/or missing payments. The HAMC staff has no additional information to provide you until after the 10th of the month. As a reminder late fees cannot be charged to the tenant when HAP payments are delayed. We apologize for any inconvenience this may cause you and we appreciate your understanding.